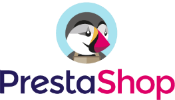 PrestaShop is an open source e-commerce solution that is used freely by more than 120,000 online stores worldwide. It comes with over 275 features being carefully developed in order to increase business owners' sales with minimal efforts required. All the software features are absolutely free. The software, based on the Smartly template engine, nowadays is used by more than 100,000 shops all over the world.
Features
An upgradeable, open-source solution
The freedom of Open Source
PrestaShop 1.7 is available with an OSL 3.0 license. You can use PrestaShop 1.7, improve it, and contribute to the project. With a community of over a million members, there are thousands of users connected to PrestaShop forums at any time. Find answers to your questions with the help of other developers and designers.
Have control over your data
You can download and install PrestaShop 1.7 locally, select your hosting solution, and have full access to your store data. An import/export tool gives you backups of your data and lets you move it around as you need.
Start theme
The PrestaShop 1.7 default theme is ideal to start with. It offers a host of features with a clear, clean design. Perfect for website developers who want to create their own customized theme.
An evolving technology
PrestaShop 1.7 is migrating to the PHP Symfony framework, which will give the project a more solid base and open it up to a much bigger developer community. Contribute on GitHub, roll out with Docker, and aim for high performance on the Cloud.
Useful SEO and Marketing Tools
Optimize your site and ensure major search engines are indexing the store.
Payment and Shipping
Control logistics such as, fees, weight, shipping restrictions and more from the PrestaShop backend. It also allows flexible shipping modules and is fully integrated with major carriers.
Easy Customer Checkout
From design to shipping, PrestaShop checkout process makes it easy for customers to buy. Using effectivly checkout page will push your conversion rates higher!
Powerful Catalog and Site Management
People can manage the most complex inventory easily with one-click updates. Import and export quickly, set attributes, sort products, bulk discounts, and much more.
Localization and Taxes
Advanced tracking system of PrestaShop can detect the location where customers and taxed or promotions by merchants. Also, configure the exchange rate and let customers choose their preferred currency.
Analytics and Reporting
Reporting is the key to monitoring and optimizing performance. Trade to track sales and customer interaction to understand the efforts are working and there is room for improvement.
Reviews
My most favorite thing is that PrestaShop is exclusively designed for e-shop creation, thus the platform has all the features that one could wish for. It's also quite easy to get around and use the software regardless if you are a beginner or advanced developer. It also has pretty great and in-depth documentation, allowing you to quickly learn the platform and make the most of it. The community of PrestaShop is also very large, therefore you may look for a lot of solutions and other information online.
Multi-lingual, multi-currency capabilities and relatively simple setup and management. You don't need extensive technical knowledge to get this working. There is a very large selection of 3rd party modules available but at very different price levels (be prepared to get what you pay for!)

Version 1.6 was slow and not stable enough. Too many occasions where the database was corrupted, a module was installed which brought the site down or other issues that were very hard to track down. Also, the pool of Prestashop experts isn't huge. Although Prestashop is open source and free, be prepared to invest in quite a few modules to extend functionality and make life simpler. Payment processing, shipping, checkout, sliders and others.
Support
What is PrestaShop?
PrestaShop is one of the most popular solutions in the e-commerce community. People used it for their own store, Prestashop is open source, supports payment gate ways and you can also extend its functionality with Prestashop Modules.
How much does PrestaShop cost?
$280/month
I'm already using another e-commerce software, can I switch to Prestashop?
With the help of our official migration partner Cart2Cart you can easily switch to Prestashop.
What types of businesses use PrestShop?
PrestaShop is a scalable solution that can accommodate the needs of small businesses as well as big e-commerce sites.